How to Play a Drum Solo
A drum solo is one of the most fun things to do as a drummer. It gives you a chance to show off your skills, and really express yourself as a musician. Playing a drum solo can be very complex however it doesn't have to. Some of the best drum solo's are fairly basic, yet packed with feeling and groove. A drum solo is not the same as a drum fill, so do not get these two mixed up!This article will teach you how to play a drum solo. There is no way I can show you the exact way to play a solo, since drum solo's are very personal and can change depending on the song or venue you are playing at. This will show you the steps to take to build a basic solo.

Start with the Basics
Every solo needs a back bone behind it to keep things flowing. There are many ways to do this, but let's stick with the basics – the bass drum. Having a driving bass drum behind the solo will keep the crowd in the flow of things so you don't lose them. Depending on how fast the solo is you are playing, incomputerate your bass drum along with the beat. If it is a slower beat, try playing 8th or 16th notes, or if it a fast solo you may want to stick with quarter notes. You do not have to play straight beats, but this way you can keep yourself on time as well. If you are more of an advanced drummer, try playing different patterns on your bass drum overtop of your other drums. Here is an example of an easy 16th note solo wiht a solid basic bass drum pattern:

Slowly Build It Up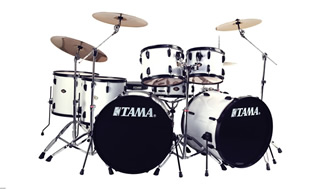 Now that you have your basic beat going, its time to build the solo. This is where a lot of drummers go wrong. They stat out with a bang and go crazy with fast drum rudiments as soon as they can. To play an effective solo, you must start out slow, and slowly build it up. This way the crowd doesn't get bored right away, and keeps their interest. Start by playing some quarter notes on the toms and snare. Use dynamics a lot. Dynamics are basically the volume you are playing the drums, so play soft at first. You can use any drum or cymbal you want, as long as they fit in. As things progress, build you volume and speed on the drums. This is where you have the chance to show off your chops, play what you can and make it look good! Remember to play only what you know, if you mess up in a solo because you cannot play what you wish you could kill the feel of the entire solo.
Bring the Solo to a Close
Now that you have the cheers of the fans, its time to bring things down to a close. There are two really good ways to do this. The first way is to bring the solo back down to where you started. To do this, slowly start playing what you originally were playing, (obviously bringing the volume down). This is a very effective way to end things because the crowd will recognize the beat from before, giving them closure. Also you will be able to play for a little bit longer, adding stuff in you may have forgot to the first time round. The second way of ending your solo is with a bang. You are already playing fast and loud, so finish it of with a bunch of simples and bass drum beats. This is effective for solos that are at a loud concert where the crowd is really into it! The more cymbals the better in this scenario, make sure you back these cymbals up with your bass drum!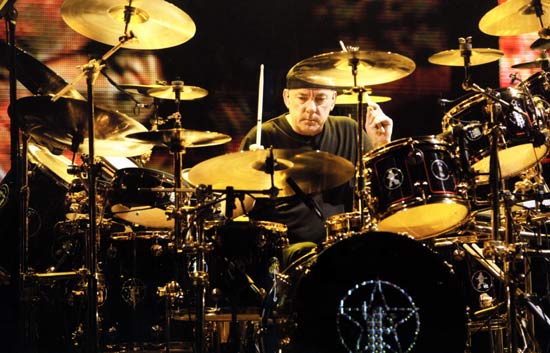 Famous Drummer Neil Peart Playing a Drum Solo
Both solo enders are equally effective and can be used in any occasion. Practice your soloing technique on your own before you play in front of a crowd. A solo is supposed to be improvised for the most part, but having a general idea of how long and how fast your solo will be is always good to know. Maybe practice a few chops and other fills that you could incorporate into any solo, so when the time comes to show off you have a whole list of skills to choose from! When you have mastered the art of soloing, try and place these in some odd time signature grooves and beats! Enjoy playing your solo's, the more you are into it the more the crowd will respond!