How to Find Good Drum Lessons
Do you want to learn how to play drums? Maybe you already play, but just want to improve your technique. Either way, you need drum lessons from a teacher that has experience to share with you.
There are so many options for many different types of drum lessons these days that I get many drummers asking me how to find good drum lessons. They are out there, but maybe not in the same form you are used to. A drum lesson doesn't necessarily need to be a one on one instruction by a professional drummer; it can be in any form as long as it teaches you! Most drummers find it hard to fork out the big bucks for an hour of lessons in which they may or may not learn anything at all. Others learn the best by teaching themselves. So where is the balance? This article will hopefully help you decide how to find good drum lessons.
Private Lessons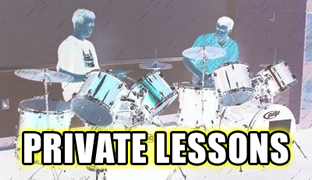 If you have the extra money lying around, you may want to dive into private lessons. These can be good for some, but not for others. The price of private lessons is phenomenally high, sometimes ranging from 40-70 dollars an hour. A lot of times, a drummer will only learn a few techniques in that hour, finding it hard to justify the money. I am not putting down private lessons at all mind you, they are great to have and can definitely teach you a ton. They are great for technique correction. A professional instructor will be able to show you where you are going wrong, something that you can't find any where else. If you are interested in these lessons, try looking around for the best instructor for you. Try many out before you settle, as you will find some teachers will teach you more effectively than others.
Video Lessons

The other form of drum lessons is video drum lessons. These are the best bet if you are on a budget financially, and time wise. You can find a wide array of videos online to purchase that are loaded with interesting techniques and skills. The best part about drum instructional videos is that you can learn at your own pace. You are not limited to the time with your instructor. Also, you can pause and rewind different techniques if you didn't quite get them at first. Also, with personal lessons, there is a lot of talk and greetings that can waste valuable time. With video lessons, you get hour after hour of jam packed lessons. There is no time wasted with small talk and stories. With personal drum lessons, your instructor may only know so much about the drums. Depending on the area you may not be able to find a drum teacher for specific concepts. With video lessons you can learn any style or technique from professionals from around the world. You can start out playing the drums with easy to follow beginner drum lessons.
All in all, video lessons are the more popular way to go these days. Do not rule out private lessons however, they are still important and should be taken once in a while. But for the money, video lessons give you so much more. Try each method out; each drummer learns in a different way, so make sure you try both video and personal lessons!
It is also recommended that you take a look at the beginner drum lessons avaialable on DrumLessons.com, DrumLessons.net, and the Learn How To Play Drums website. They have some great resources for you.
Learn how to play drums with Mike Michalkow's drum lessons in the complete Drumming System!